When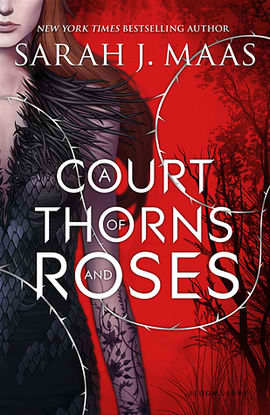 nineteen-year-old huntress Feyre kills a wolf in the woods, a beast-like creature arrives to demand retribution for it. Dragged to a treacherous magical land she only knows about from legends, Feyre discovers that her captor is not an animal, but Tamlin—one of the lethal, immortal faeries who once ruled their world.
As she dwells on his estate, her feelings for Tamlin transform from icy hostility into a fiery passion that burns through every lie and warning she's been told about the beautiful, dangerous world of the Fae. But an ancient, wicked shadow grows over the faerie lands, and Feyre must find a way to stop it . . . or doom Tamlin—and his world—forever.
---
This is a tricky book to rate for a couple of reasons. Firstly I want to start off by saying that I love Sarah J. Maas as an author. Her writing flows beautifully and she paints words on a page like a craftsman painting on a canvas. Her 'Throne of Glass' series is both thrilling and captivating but somehow, though well written 'A Court of Thorns and Roses' didn't have quiet the same appeal for me. I will admit – I wanted to love this book, I really did. It had a promising premise and a good cast of strong characters (who I adored) and was frustrated with myself for not loving this so completely as I did 'Throne of Glass'. EVERYONE loved this book, so many booktubers and friends recommended it to me so I was so disappointed I struggled with it.
'A Court of Thorns and Roses' slight downfall for me was it's pacing – I felt it to be a little slow in places. I LOVED the first 100 pages, I loved watching Feyre in her current world, her dysfunctional family and the layout and customs of her village. I loved that scene when Tamlin came to claim her and watching as she discovered his new world. The middle and the time spent in captive at Tamlin's castle however, was a little slow. I will say that the borderline new adult romance was fantastic and there were are few miscellaneous scenes scattered throughout that I loved. These mostly include capturing the Suriel and escaping the naga, the picnic at the knoll and swimming in the starlight pool with Tamlin and Lucien, seeing the world through fae eyes by the willow tree and waltzing with the will-o'-the-wisps on summer solstice. These scenes I loved and kept me reading because among the curse and the fear Feyre could let go and discover the Spring Court. I will say pushing through was well worth the wait to go Under the Mountain in the last 100 or so pages. This is when I finally became fully invested in the story and really devoured the book. The last 100 pages I LOVED!
So, despite a maybe sagging middle, 'A Court of Thorns and Roses' was still worth the read and I still want to read 'A Court of Mist and Fury'. Perhaps the series will become more engrossing in book 2 now they setting has been laid. Anyway I promise you, if you do decide to pick up 'A Court of Thorns and Roses' and have trouble pushing through the middle – KEEP ON READING! By the end you'll thank the "Cauldron" you did and end up desperate to read the second.