Break my heart. Break it a thousand times if you like. It was only ever yours to break anyway
The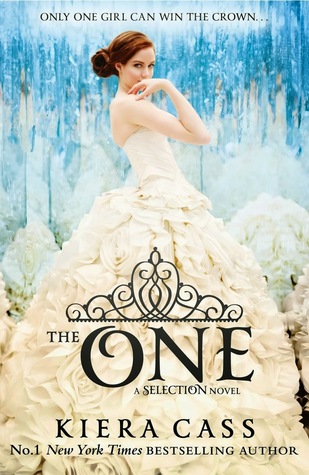 Selection changed America Singer's life in ways she never could have imagined. Since she entered the competition to become the next princess of Illéa, America has struggled with her feelings for her first love, Aspen—and her growing attraction to Prince Maxon. Now she's made her choice . . . and she's prepared to fight for the future she wants.
Find out who America will choose in The One, the enchanting, beautifully romantic third book in the Selection series!
---
'The One' was a charming conclusion to Kiera Cass's 'Selection' series and by far my favorite of the original trilogy. The book was concluded nicely, the tension of the novel building in to an explosive (literally!) climax that left me shocked and struck for words – I did not see THAT coming! All of the characters were developed beautifully and I loved every glittering second wrapped up in America's world. I will miss her voice, this has really come to be one of my favorite series. These books are just fun, easy reads and the princess inside me rejoices.
Prince Maxon's selection is coming to a close as more and more of the Elite are eliminated. A winner must be crowned, a new princess born but America must decide: Maxon or Aspen? When America first arrived at the palace she never imagined that she'd come close to the crown or to Prince  Maxon's heart but the fight isn't over yet. With the unrest in the kingdom erupting into an explosive climax and so much at stake America must face threats from both inside the castle's walls as well as outside.
Man! 'The One' was incredible and the plot – just wow. It was action packed, fast paced, so swoon worthy and just A-MA-ZING! I could hardly tear myself away for one moment. This book had me crying, laughing, applauding, screaming and cheering. It was such a wild ride but an incredible journey. Among the tension between America, Maxon and Aspen as well as the tension from the series' antagonistic forces were moments that made me both smile and weep. I loved how the members of the elite could finally come together and learn to love and support one another (I adored the make-over scene!). We saw an incredible bond take root in all of the characters during the course of 'The One' and I adored it.
The character development during 'The One' was likewise incredible. We see each and every character grow and change in one way or another. Whether these characters be our main protagonists, our selected elite or the outsiders, each character went through some kind of growth. America blossomed into such a strong character. Not that she wasn't before but we see a new level of strength take root on a much deeper level. She became a fighter. She made choices, risking everything for love and for the kingdom. She is someone to be admired. I also want to add that I enjoyed Celeste's character development. When we first meet Celeste Newsome she is presented as a almost cliched mean girl, think Regina George. However, during the course of 'The One' we as readers begin to understand her on a deeper level and she developed from a rather two dimensional character into a fully fleshed three dimensional character who you can't help but love.
Finally, 'The One' was the perfect conclusion to the wildly acclaimed 'Selection' series. These books aren't overly sophisticated but they teach us valuable lessons about love, sacrifice and our own strength. They are so romantic, sweeping you off your feet into a fairy tale world, so brilliantly crafted. I highly recommend this series and can't wait to see where this heads next with 'The Heir'. Suh great, fun reads! I will miss you America, farewell!