Hello everyone, I hope you've all had a wonderful month packed with plenty of reading! This month I didn't get around to reading nearly as many books as I'd originally envisioned. As you will all know, sometimes life just gets in the way and things happen sparking slumps or eating away at your precious reading time. Both these can be said for me during the month of May. Towards the beginning of the month I had some emotional family crises, sparking a terrible reading slump. No matter what I tried I just couldn't make my mind focus on the words and drift away into the story. So, instead of only skimming the words without getting swept away from the mundane I waited for it to pass which, luckily it did!  Next, after reading a few books y busy scheduled came into play. Seriously, May just wasn't cutting me any slack! But, despite the mishaps, I managed to read 5 books and start 2 (which I plan to finish in June).
---
BOOKS READ: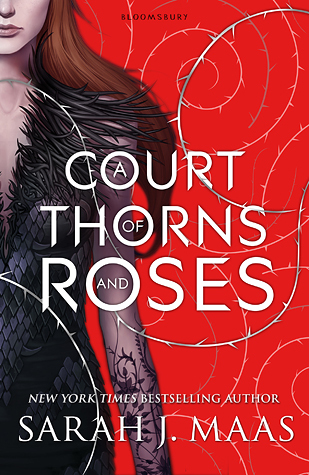 A COURT OF THORNS AND ROSES by SARAH J. MAAS

This book took me a very long time to read which was why I was so tricky for me to rate. Everyone loved this book. It had been sitting on top of my tbr for so long but when I finally picked it up in anticipation for A Court of Mist and Fury it failed to fulfill my expectations. I wanted to love this book – I really did which is why I was so disappointed that I struggled with it. The initial premise of the trilogy had me hooked with the ingredients for a promising read but it juts didn't hit the mark for me. That being said, I loved the first hundred pages, what had me reeling was the middle which I found to be ill paced. I soldiered through though and was so glad I did – the last 100 pages were terrific! This is when I finally became fully invested in the story and really devoured the book and I thanked "the cauldron" I stuck it out. Maybe it was also the dramas circulating my life so I definitely see a re-read in the near future.
3.5 STARS | REVIEW | GOODREADS 
THESE BROKEN STARS by AMIE KAUFMAN & MEAGAN SPOONER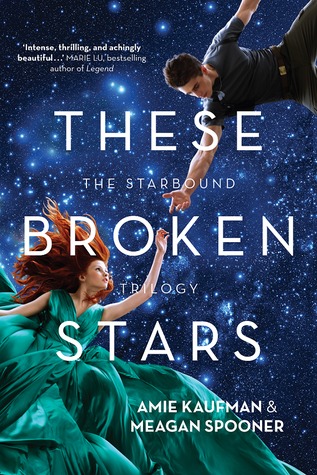 These Broken Stars was the Tea Leaves Book Club's May read and I was utterly transported into it's enticing new world. This is a prime example of amazing character development. The characters in this novel develop so beautifully over the length of their journey,  they both challenged each other and grow as two stubborn individuals to becoming a well working team. Before this novel I had never really given much thought to science fiction as a genre. When I heard the worlds "science fiction" I pictured little green men, Star Wars, Star Trek and E.T. but i was totally blow away by These Broken Stars. Initially, I only gave this a second thought because and friend told me it was Titanic in space but this novel has since awoken a passion for science fiction and I'm ashamed that I overlooked the genre for so long. I can't wait to finish reading the rest of this incredible series!
UNRIVALED by ALYSON NOEL 
Unrivaled was the novel that ripped me from my hideous reading slump. After reading These Broken Stars I immediately leaped for it's sequel This Shattered World but could enjoy it's full potential due to the events in my personal life. After taking a week long break from reading I picked up Unrivaled as it was lighter and I needed a little book candy. I devoured this book. It was exactly what I needed at the right time, this is a book that keeps you up all hours, desperately turning the pages, needing to decipher the mystery. Unrivaled is sexy and mysterious – a world where nothing is as it seems and our most desperate dreams become our darkest nightmares. It's reminiscent of Pretty Little Liars and Gossip Girl with a tangled web of deceit and strong characters. I loved it.
THE HEIR by KIERA CASS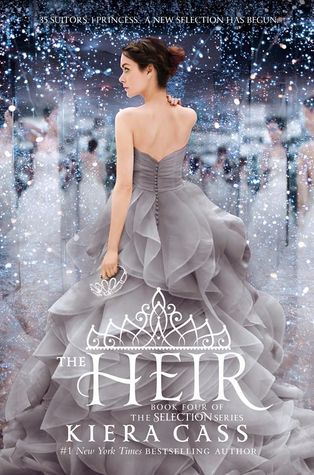 This was another quick, easy read to help me power through my delayed reading month. The Heir ended up being my favorite book in the entire selection series. For most, you either loved or hated The Heir. I loved it. These books don't have the most sophisticated plot or themes but what makes these books fun are their ability to make you laugh, cry and swoon – much like a good dose of reality TV. I found The Heir to be more lighthearted than the original trilogy with less tension and conflict which was what I loved about it. We got as new perspective on the selection process, viewing it as a member of the royal family and not as an outsider. I jumped at the chance to go behind the scenes and really see the workings of the palace. I also loved that all of our favorite characters were there too among the new, with such a strong willed, determined heroine. I foresee a re-read in the not to distant future.
THE CROWN by KIERA CASS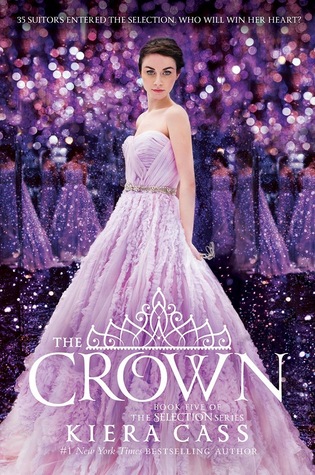 One of my most anticipated reads for May 2016, I leaped into The Crown only moments from completing The Heir. The Crown, the heart wrenching conclusion to The Selection Series took on a much darker role, giving us insight to the sacrifice and heartbreak of the role of princess and a stronger, fully developed heroine. The only flaw this novel had for me however, was the ending. The ending, unlike The One was rather abrupt, leaving a little too much to the imagination. It didn't quiet feel like an ending to a series, it left me wanting more. I needed a little more closure than this after investing so much time into reading the series. Ending aside though, it was a good read even evoking a tear or two and Eadlyn did end up with who I always loved…. sigh…
---
JUNE TBR:
As we move into June I want to share with you some of the books I hope to read in the start to winter (well if you live in the southern hemisphere – I'm so jealous of all over you soaking up the rays up north 😦 ).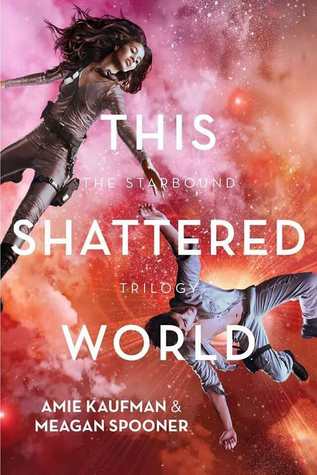 THIS SHATTERED WORLD by AMIE KAUFMAN & MEAGAN SPOONER
 Lee is captain of the forces sent to Avon to crush the terraformed planet's rebellious colonists, but she has her own reasons for hating the insurgents.
Rebellion is in Flynn's blood. Terraforming corporations make their fortune by recruiting colonists to make the inhospitable planets livable, with the promise of a better life for their children. But they never fulfilled their promise on Avon, and decades later, Flynn is leading the rebellion.
Desperate for any advantage in a bloody and unrelentingly war, Flynn does the only thing that makes sense when he and Lee cross paths: he returns to base with her as prisoner. But as his fellow rebels prepare to execute this tough-talking girl with nerves of steel, Flynn makes another choice that will change him forever. He and Lee escape the rebel base together, caught between two sides of a senseless war.
~ I started reading this one in May but could appreciate it's brilliance and intense plot lines fully due to the dramas circulating my personal life. This is right up the top of my trb pile for June and I hope to have it finished and reviewed by the end of the week ~
A COURT OF MIST AND FURY by SARAH J. MAAS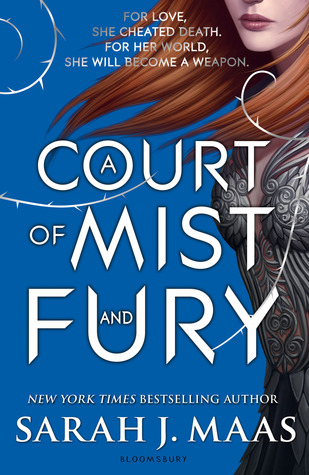 Feyre is immortal.
After rescuing her lover Tamlin from a wicked Faerie Queen, she returns to the Spring Court possessing the powers of the High Fae. But Feyre cannot forget the terrible deeds she performed to save Tamlin's people – nor the bargain she made with Rhysand, High Lord of the feared Night Court.
As Feyre is drawn ever deeper into Rhysand's dark web of politics and passion, war is looming and an evil far greater than any queen threatens to destroy everything Feyre has fought for. She must confront her past, embrace her gifts and decide her fate.
She must surrender her heart to heal a world torn in two.
~ This is also on top of my tbr pile for this month. Not only because I could hardly wait to read it but it's also the Tea Leave Book Club June read. ~
OBSIDIAN by JENNIFER L. ARMENTROUT 
Starting over sucks.
When we moved to West Virginia right before my senior year, I'd pretty much resigned myself to thick accents, dodgy internet access, and a whole lot of boring…. until I spotted my hot neighbor, with his looming height and eerie green eyes. Things were looking up.
And then he opened his mouth.
Daemon is infuriating. Arrogant. Stab-worthy. We do not get along. At all. But when a stranger attacks me and Daemon literally freezes time with a wave of his hand, well, something…unexpected happens.
The hot alien living next door marks me.
You heard me. Alien. Turns out Daemon and his sister have a galaxy of enemies wanting to steal their abilities, and Daemon's touch has me lit up like the Vegas Strip. The only way I'm getting out of this alive is by sticking close to Daemon until my alien mojo fades.
If I don't kill him first, that is
~ Another book I started in May but never finished (well in my defense I only started yesturday!). I plan to finish this by tomorrow because I can hardly put it down. ~
---
So there you have it – that's all for this month's wrap up and tbr – even though I plan to read waaaaay more books in June than 3! What books did you read during the month of May? What did you think of them? Let me know in the comments below and as always – happy  June reading!