Good morning everyone, happy Magic Monday!
Today I'm excited to tell you all about an exciting new weekly themed post I've created. So
it's no secret that I love all things Disney, so I've combined it with my other favorite thing: books – because we all love a good retelling every now and again. Each week I'll bring you a new character and a whole lot of books inspired by that character or their fairy tale. These books will span across a wide range of different genres so there should hopefully be a retelling to suite everyone's refined tastes. This Magic Monday I'm bringing you everything Snow White because what better way to kick off our first Magic Monday than with the princess who started it all? Snow White, she was the sweet compassionate princess of the Disney lineup. She was the very first animated character to ever feature in a full length animated motion picture and also the very first animated character to receive a star on the Hollywood Walk of Fame. Snow White is gentle and soft spoken, her trusting nature often leading her to trouble who's songs filled our childhood. Keep reading to find six enchanting books inspired by our leading lady that are no poison apple! 
 SNOW by Tracy Lynn 
In a tiny Welsh estate, a duke and duchess lived happily, lacking only a child—or, more importantly, a son and heir to the estate. Childbirth ultimately proved fatal for the young duchess. After she died, the duke was dismayed to discover that he was not only a widower, but also father to a tiny baby girl. He vowed to begin afresh with a new wife, abandoning his daughter in search of elusive contentment.
Independent—virtually ignored—and finding only little animals and a lonely servant boy as her companions, Jessica is pale, lonely and headstrong…and quick to learn that she has an enemy in her stepmother. "Snow," as she comes to be known, flees the estate to London and finds herself embraced by a band of urban outcasts. But her stepmother isn't finished with her, and if Jessica doesn't take control of her destiny, the wicked witch will certainly harness her youth—and threaten her very life…
Snow is a bewitching yet unique take on the Snow White story however stays true to the underlying themes and ideas within the fairy tale. In this story, we are taken to Victorian England giving the novel an historical element and also an added touch of science fiction. This can be a little slow to start but it's fairly short and easy to read with a cast of unique characters with a twist. Snow White, who in this tale is known as Jessica wasn't your typical princess. She wasn't perfect with flaws to balance out her other traits. She could be reckless and very trusting which could sometimes get her into trouble but nonetheless was kind. If your into historical fiction retellings this is your book!
---
THE FAIREST BEAUTY by Melanie Dickerson 
Sophie desperately wants to get away from her stepmother's jealousy, and believes escape is her only chance to be happy. Then a young man named Gabe arrives from Hagenheim Castle, claiming she is betrothed to his older brother, and everything twists upside down. This could be Sophie's one chance at freedom—but can she trust another person to keep her safe?
Gabe defied his parents Rose and Wilhelm by going to find Sophie, and now he believes they had a right to worry: the girl's inner and outer beauty has enchanted him. Though romance is impossible—she is his brother's future wife, and Gabe himself is betrothed to someone else—he promises himself he will see the mission through, no matter what.
When the pair flee to the Cottage of the Seven, they find help—but also find their feelings for each other have grown. Now both must not only protect each other from the dangers around them—they must also protect their hearts.
The Fairest Beauty weaves fairy tale with religion and history to present a charming tale that's as innocent as the classic Disney film. This tale is set during the Medieval times in Germany which served as an interesting setting. This time round Snow White is personified in Sophie who, much like Jessica in Snow, is more fleshed out that the iconic Disney character. Sophie is strong willed and brave however still innocent and sweet. This is a retelling seeped with faith and Christianity so just keep that in mind if you chose to take The Fairest Beauty on. This is a work of Christian fiction so this might not be everyone's cup of tea but this is a cute, clean book that brings romance, adventure and suspense.
---
STITCHING SNOW by R.C. Lewis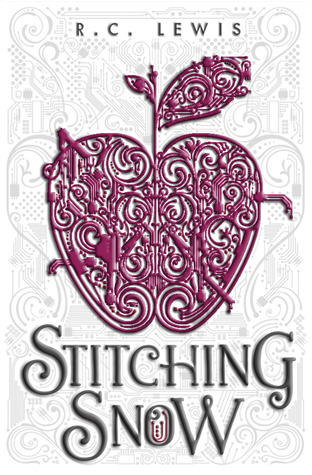 Princess Snow is missing.
Her home planet is filled with violence and corruption at the hands of King Matthias and his wife as they attempt to punish her captors. The king will stop at nothing to get his beloved daughter back—but that's assuming she wants to return at all.
Essie has grown used to being cold. Temperatures on the planet Thanda are always sub-zero, and she fills her days with coding and repairs for the seven loyal drones that run the local mines.
When a mysterious young man named Dane crash-lands near her home, Essie agrees to help the pilot repair his ship. But soon she realizes that Dane's arrival was far from accidental, and she's pulled into the heart of a war she's risked everything to avoid. With the galaxy's future—and her own—in jeopardy, Essie must choose who to trust in a fiery fight for survival.
Stitching Snow is Star Wars meets Snow White, a science fiction read reminiscent of The Lunar Chronicles, Stitching Snow provides a kick ass heroine with a band of great characters. This is a retelling with a futuristic twist on the classic tale. Think androids, evil empires and spaceships – a thrilling space opera. Here we have Essie who is in fact our missing  princess, Snow but make no mistake my friend – Essie is not your typical princess. Essie is spunky, sassy and extremely intelligent. This is a princess who won't take thing sitting down. This is a unique story with parts of the classic tale stitched in neatly but in no way is predicable or boring. Strap in – if you pick this one up your in for a thrilling ride.
---
THE SHADOW QUEEN by C.J. Redwine
Lorelai Diederich, crown princess and fugitive at large, has one mission: kill the wicked queen who took both the Ravenspire throne and the life of her father. To do that, Lorelai needs to use the one weapon she and Queen Irina have in common—magic. She'll have to be stronger, faster, and more powerful than Irina, the most dangerous sorceress Ravenspire has ever seen.
In the neighboring kingdom of Eldr, when Prince Kol's father and older brother are killed by an invading army of magic-wielding ogres, the second-born prince is suddenly given the responsibility of saving his kingdom. To do that, Kol needs magic—and the only way to get it is to make a deal with the queen of Ravenspire, promise to become her personal huntsman…and bring her Lorelai's heart.
But Lorelai is nothing like Kol expected—beautiful, fierce, and unstoppable—and despite dark magic, Lorelai is drawn in by the passionate and troubled king. Fighting to stay one step ahead of the dragon huntsman—who she likes far more than she should—Lorelai does everything in her power to ruin the wicked queen. But Irina isn't going down without a fight, and her final move may cost the princess the one thing she still has left to lose.
The Shadow Queen is not a predictable Snow White retelling. Not. In. The Slightest. The simualities between the two tales stops at Evil Queen, Huntsmen and poison apples. This is a story all its own, a dark, twisted story this is a book filled with plot twists. This one is filled with magic and dragons. Lorelai is our fair princess in this novel but incredibly strong much like Essie from Stitching Snow. She is princess on the run and having lived through many struggles. This one is a high fantasy tale with great world building and propelling action so perfect for fans of Sarah J. Maas.
---
NAMELESS by Lili St. Crow
When Camille was six years old, she was discovered alone in the snow by Enrico Vultusino, godfather of the Seven—the powerful Families that rule magic-ridden New Haven. Papa Vultusino adopted the mute, scarred child, naming her after his dead wife and raising her in luxury on Haven Hill alongside his own son, Nico.
Now Cami is turning sixteen. She's no longer mute, though she keeps her faded scars hidden under her school uniform, and though she opens up only to her two best friends, Ruby and Ellie, and to Nico, who has become more than a brother to her. But even though Cami is a pampered Vultusino heiress, she knows that she is not really Family. Unlike them, she is a mortal with a past that lies buried in trauma. And it's not until she meets the mysterious Tor, who reveals scars of his own, that Cami begins to uncover the secrets of her birth… to find out where she comes from and why her past is threatening her now.
This one is for all you paranormal fantasy lovers out there. Nameless is a dark Gothic tale with a great dose of romance. This is one love triangle that will keep you invested. In Nameless we have our Snow White but not like we've come to know her. This Snow, Camille suffers from a stutter which is very interesting to read. I've read of deaf or blind characters but a stutter? Nope – haven't come across that one. Camille is perceived by some as the "poor little rich girl". She's not like other Snow White heroines. Camille is delicate and fragile which is what make Nameless so different. This is a great paranormal read with plenty of madness.
---
WINTER by Marissa Meyer
Princess Winter is admired by the Lunar people for her grace and kindness, and despite the scars that mar her face, her beauty is said to be even more breathtaking than that of her stepmother, Queen Levana.
Winter despises her stepmother, and knows Levana won't approve of her feelings for her childhood friend—the handsome palace guard, Jacin. But Winter isn't as weak as Levana believes her to be and she's been undermining her stepmother's wishes for years. Together with the cyborg mechanic, Cinder, and her allies, Winter might even have the power to launch a revolution and win a war that's been raging for far too long.
Can Cinder, Scarlet, Cress, and Winter defeat Levana and find their happily ever afters?
Ah, Winter. This is one retelling that everyone seems to know. Winter is the fourth and final book in the Lunar Chronicles so be sure to read the other's before you read this one. Princess Winter is our Snow White in this read who is as crazy as she is beautiful. A complex character, this is a Snow who knows she's beautiful and will use it to manipulate. Though kind and sweet, Winter suffers a mental illness and her portrayal of this was interesting to say the very least.  This is a emotional and intense science fiction retelling with a dramatic climax with never a dull moment. Pick this one up once you finish Stitching Snow!
---
So there you have six books inspired by the sweet, compassionate Princess behind Disney's very first animated motion picture. Were they any retellings I missed? Let me know your favorites in the comments below. Stay tuned for next Magical Monday when we discuss all things Cinderella, perhaps one of my all time favorite characters.