Happy Magic Monday bloggers x (although on Tuesday… sorry for the delay guys!)
In keeping with the tradition of the Snow White Magic Monday, today we are discussing books that are all things Cinderella. Whether they be inspired by this classic tale in part or full,a retelling or even just novels with characters or plots that remind me of the kind, optimistic heroine from Disney's classic film. Much like last Monday, the novels featured below are gathered from various genres so that hopefully there should be a retelling to suit each of your refined reading pallets! Cinderella is one of my favorite Disney films and one of my favorite princesses. Why? Maybe because her story explores universal themes which still resonates with both children and adults alike today. Cinderella teachers us the importance of never letting ugly experiences and grief darken our beautiful hearts. She shows us that not only can a new pair of shoes change you live but we must take control of our own destiny. When her dream prince didn't come to whisk her away from the abuse and misuse she was subjected too she went out and got him. Cinderella showed us that kindness and courage is a superpower. Keep on reading for 6 magical tales as enchanting and unique as Cinderella's own glass slippers…
 BEFORE MIDNIGHT by Cameron Dokey 
Etienne de Brabant is brokenhearted. His wife has died in childbirth, leaving him alone with an infant daughter he cannot bear to name. But before he abandons her for king and court, he brings a second child to be raised alongside her, a boy whose identity he does not reveal.
The girl, La Cendrillon, and the boy, Raoul, pass sixteen years in the servants' care until one day a very fine lady arrives with her two daughters. The lady has married La Cendrillon's father, and her arrival changes their lives.
When an invitation to a great ball reaches the family, La Cendrillon's new stepmother will make a decision with far-reaching effects. Her choice will lead La Cendrillon and Raoul toward their destiny — a choice that will challenge their understanding of family, test their loyalty and courage, and, ultimately, teach them who they are.
Before Midnight a highly unique and original take on the Cinderella tale with nodes to the Grimm and Perrault versions of the story. In this retelling, we have a heroine with not only a brother but a living and breathing father lost in his grief. This instantly makes Before Midnight stand out among the other classic retellings as it allows for Dokey to explore to role of the father and ask the question; What if the roles of the father and step family were reversed? Here we have a book that explores this what if? by showing us a father with a negative and abusing influence and a very different step mother. Cendrillon is our Cinderella and not only is kind and compassionate but has the courage to speak her mind. This one is perfect for those who want a classic spinning of the infamous story with original twists.
---
THE CAPTIVE MAIDEN by Melanie Dickerson 
Happily Ever After…Or Happily Nevermore?
Gisela's childhood was filled with laughter and visits from nobles such as the duke and his young son. But since her father's death, each day has been filled with nothing but servitude to her stepmother. So when Gisela meets the duke's son, Valten–the boy she has daydreamed about for years–and learns he is throwing a ball, she vows to attend, even if it's only for a taste of a life she'll never have. To her surprise, she catches Valten's eye. Though he is rough around the edges, Gisela finds Valten has completely captured her heart. But other forces are bent on keeping the two from falling further in love, putting Gisela in more danger than she ever imagined.
The Captive Maiden is the fourth book in Melanie Dickerson's Hagenhiem series of retold fairy tales and is as refreshing as the previous installments. In this book, Gisela is our beautiful Cinderella and you love her because even though she is sweet she is not just a "princess" Gisela is tough. She keeps a strong positive outlook and doesn't sit back. This story, like the other books in the series is set in the very same universe. In this, we are transported back to Germany in the early 1400's infusing the story with both historical elements and religious aspects. This retelling is as captivating and original as other works such as the Lunar Chronicles or Court of Thorns and Roses series but keep in mind that this is clean religious fiction.
---
THE PRINCESS OF GLASS by Jessica Day George 
Hoping to escape the troubles in her kingdom, Princess Poppy reluctantly agrees to take part in a royal exchange program, whereby young princes and princesses travel to each other's countries in the name of better political alliances–and potential marriages. It's got the makings of a fairy tale–until a hapless servant named Eleanor is tricked by a vengeful fairy godmother into competing with Poppy for the eligible prince. Ballgowns, cinders, and enchanted glass slippers fly in this romantic and action-packed happily-ever-after quest from an author with a flair for embroidering tales in her own delightful way.
Princess of Glass is another classic fantasy book and the sequel to Princess of The Midnight Ball. This is another refreshing spin on Cinderella featuring a resentful, angry Ella with a questionable fairy godmother. This is a tale that offers us a different perspective. Princess of Glass is told not from Cinderella's point of view by another's, giving us a fresh angle on the otherwise tired plot. Everyone of the distinctive plot points or scenes from Cinderella have otherwise been warped and twisted in this tale, almost beyond recognition. Poppy, our protagonist is strong, smart and fun where as Eleanor or our Cinderella can be annoying at times, resentful and not the sweet, kind woman we've grown up hearing about. This one is dark and sinister compared to Before Midnight and The Captive Maiden and perfect for all fairy tale lovers.
---
THE CINDERELLA MOMENT byJennifer Kloester 
A love of fashion. A couture competition. A once-in-a-lifetime chance . . .
Angel Moncoeur has always wanted to be a fashion designer, but without money or connections, it's going to be a challenge. When an opportunity to leave her home in New York and head to Paris appears, Angel grabs it – even if it means masquerading as her best friend Lily. That can't be too hard, can it?
But faking things doesn't come easy for Angel, so when she falls in love with her very own Prince Charming and he thinks she's someone else, things start to get complicated.
Angel needs to stop her secrets unravelling if she wants to live happily ever after . . .
From exciting talent Jennifer Kloester comes this fabulous story about high society, mistaken identity, love, betrayal, friendship – and great clothes.
This one is for all you contemporary lovers out there. In this one our protagonist, Angel is almost as positive and determined as our lovely Disney heroine.The Cinderella Moment is a cute, modern spin on a fairy tale and a coming of age story. It's incredibly sweet and emotional with our Cinderella figure going through one hell of a journey to achieve her happily ever after. This is a story that stays fresh and new the whole way through, giving it's readers a good helping of unexpected. This is not a predictable tale but a refreshing read with clever Cinderella parallels. Entertaining and romantic – this is a story which, in true Cinderella fashion *pun of the century there everyone!* shows us to dream big and fight for those dreams.
---
WAYFARER by Lili St. Crow
Ellie Sinder is a Charmer—the most powerful of her age that St. Juno's Academy has ever seen. But Ellie's stepmother, Laurissa, wields manipulation and abuse to force Ellie to work her spells ever more intensely, for Laurissa's profit.
Then a train from over the Wastelands arrives in New Haven, bearing on it golden boy Avery Fletcher, newly returned from prep school, wearing a sweater Ellie'd love to bury her face in and a smile as bright as his blond hair. Avery's arrival sets Laurissa off on a dark and dangerous scheme—and this time the soul up for grabs is Ellie's.
New York Times bestselling author Lili St. Crow has created a stirringly romantic, deliciously spooky update of Cinderella, the alluring second volume in her trilogy Tales of Beauty and Madness.
Wayfarer is your paranormal Cinderella Retelling and the sequel to Nameless. This is a retelling that is steeped in darkness with Gothic elements and great romance. Much like Camille in Nameless, our Cinderella, Ellie is just as dark and dare I say … off. Not the sweet princess we've all come to know. This is Cinderella like we've never seen her, a world reminiscent of a nightmare. A haunting read, Wayfarer is one that recalls the dark themes of the originally grim *another pun – I'm on a role today!* tales. This is filled with unpredictable twists and turns set in an alternative universe where all manner of paranormal life stalk our streets, perfect for fans of dark retellings or paranormal and Gothic fiction.
---
CINDER by Marissa Meyre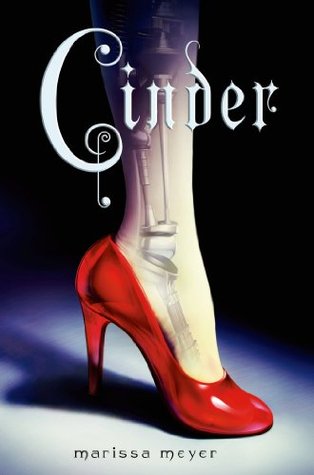 Humans and androids crowd the raucous streets of New Beijing. A deadly plague ravages the population. From space, a ruthless lunar people watch, waiting to make their move. No one knows that Earth's fate hinges on one girl.
Cinder, a gifted mechanic, is a cyborg. She's a second-class citizen with a mysterious past, reviled by her stepmother and blamed for her stepsister's illness. But when her life becomes intertwined with the handsome Prince Kai's, she suddenly finds herself at the center of an intergalactic struggle, and a forbidden attraction. Caught between duty and freedom, loyalty and betrayal, she must uncover secrets about her past in order to protect her world's future.
Cyborgs, Androids, Lunar people – This is your Cinderella story with a twist that only Science Fiction can bring. The first novel in a bestselling and most beloved series, die hard Science Fiction and Fantasy fans alike will fall under Cinder's spell. Cinder, our science fiction Cinderella is a cyborg living in New Beijing and a mechanic. She's independent and feisty yet hardworking and still a dreamer much like our equally beloved Disney Princess. The Cinderella elements that we all know and recognize have been so perfectly crafted into this unpredictable and totally unique book. We still have our evil step family, we still have our dashing prince and of course; we still have our shoe. Cinder is a fighter, a girl willing to rebel against what life has dealt and its these original themes that tie Cinder [perfectly to our Disney heroine.
---
 So here are 6 enchanting Cinderella retellings. Now this list barely scraps the top of the barrel. There are countless others floating around out there and probably a great deal more to come. This list would take me months to write if I included them all. Some others worth mentioning though are Sarah J. Maas's Throne of Glass which was loosely based on the tale with a few nodes to the Disney classic or even Kiera Cass's Selection series. Were they any retellings I missed? Let me know your favorites in the comments below. Stay tuned for next Magical Monday (Yes, I promise it will come on Monday next week and not Tuesday evening!) when we discuss all things sleeping beauty, or Aurora one of Disney's most beautifully drawn heroines. Until next time, remember to keep Cinderella's famous words in your hearts; "have courage and be kind".