Happy July everyone, I hope you had a productive month and powered through your June TBR's. I didn't get through quiet as many books as I'd hoped – don't I always – due to packing up and getting ready to move. Luckily I persuaded my mum to let me pack my treasured bookshelf on the final day (What? Boxes make the pages yellow and besides – I just couldn't bare to box them up yet!) so though my room may be looking a little boring I still have my beautiful bookshelf lining my wall. But, the best thing about moving into a new house is getting the chance to buy a new book shelf! I'm so excited (please don't judge me!) because I haven't had a new shelf in about eight or nine years and it's getting rather full. I think I ran out of shelf space last year and yet they still accumulate! I'm planning to do a DIY built-in case, one which will take up an entire wall in my room so once I've moved and got it finished I'll do a book shelf tour (you may be waiting a month or two though!). Anyway, sorry for my side story and now back to the wrap-up/TBR. I managed to read 5 books and start 2 amongst my boxing and packing which trust me – if you saw my house you'd be astounded I manged that many.
---
BOOKS READ:
OBSIDIAN by JENNIFER L. ARMENTROUT
Yes, you'll recognize this one from my May wrap-up and June TBR, Obsidian was amazing – this was such a great, quick read! It's pages disappeared within almost one sitting and I loved every moment of it. Practically dripping with sexual tension and fabulous chemistry, this book is mind blowing with plenty of sharp twists and turns and memorable characters to boot. Katy, our main protagonist was relateable and I loved her, seriously – we'd be best friends if she actually existed. Snarky and witty, Katy so real and I loved living inside her head. On the other side of Katy we have Daemon. Ah…. Daemon….. This is why this book was so good! I think I swooned and my cheeks flushed every time he opened his damn lips! Definitely now one of my all time favorite books.
ONYX by JENNIFER L. ARMENTROUT 
The sequel to Obsidian, Onyx was in a league all it's own. Onyx was totally mind blowing, a rollar coaster ride of revelations, this one left me desperately wanting more, utterly betrayed and too emotional for words. Any flaws found in Obsidian were completed amended in Onyx with all lasting allusions to Twilight long gone. The plot was more complex with every scene, be that small or large having some kind of importance, foreshadowing and revealing key information for the climax. And speaking of the climax – wow. That's all I can really say. This is a sequel that totally uped the stakes, with no sagging middle or slow pacing anywhere in sight. Everything was heightened, characters developed and I couldn't get enough. I devoured Onyx.
OPAL by JENNIFER L. ARMENTROUT
Obsidian was brilliantly executed, Onyx perfection but Opal? Freaking epic! My god I am still reeling from that ending! Freaking torture! I was in denial – I mean surly there was more to the book, right? Right! I'm still waiting to discover what happened to my favorite Luxen Hybrid and I can't wait to pick up Origin this month. Much like the previous installment Onyx, Opal doesn't disappoint. Besides the nasty and frankly evil cliffhanger ending, Opal is tightly packed with intense action, dangerous revelations, freaky mafia kids and even more mutants. Opal also presents us with much changed characters. After the events in both Obsidian and Onyx no one is the same. Our much loved aliens and hybrids have all taken a much darker path, exploring darker themes such as depression and guilt which was interesting to see. No one escapes this theme and we see how each character deals with this.
A COURT OF MIST AND FURY by SARAH J. MAAS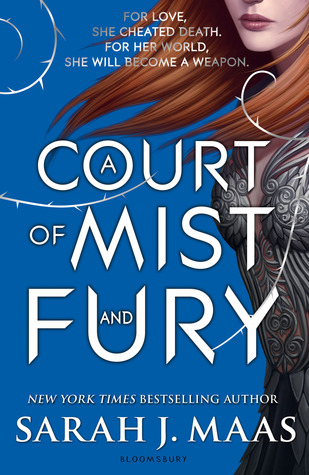 A Court of Mist and Fury was the Tea Leaves Book Club's May read and unlike A Court of Thorns and Roses, I loved every single moment of it. This is how you write a sequel. Seriously this masterpiece should be stored away in the great museums of the world. It's weeping, it's epic and master storytelling. This is one journey I'd love to take again and again. Unlike A Court of Thorns and Roses it didn't lag or sag in parts even though it was quiet long. I was full of action and betrayal and I just adored the new world we were given a glimpse into.What made A Court of Mist and Fury so epic can be chalked down to a great number of elements; being it's character development and conflict but my favorite aspect was the world building. The Realm of Sarah's universe has been expanded so immensely in this installment through both history and landscape and not to mention scope. Sprawling and vivid, Sarah's depictions were enchanting, much like the novel altogether.
DRAGONSKIN SLIPPERS by JESSICA DAY GEORGE 
Dragonskin Slippers or Dragon Slippers if you live in the USA is one of my all time favorite fantasy novels. And, after re-reading Dragonskin Slippers for probably either the fifth or sixth time (what can I say? I love this book!) I still remember how enchanted and spellbound I was that first time I read it (I think it was year 7 or 8). I love Jessica's writing, it humorous and witty paired with equally memorable characters both human and dragon alike. I love Creel, she's such a great heroine, someone who most definitely do not take things sitting down and someone who's brave enough to bargain with dragons and tease a prince. This is a series much like Harry Potter – it can be enjoyed at all ages even through it was written for middle grade and young adult. Such a great, magical adventure!
5 STARS | GOODREADS  
---
JULY TBR:
As we venture forth into July (and even more cold fronts for me 
)  I want to share with you some of the books I hope to read. Well… try to read anyway. Who know's how much time i'll get with my big move! I'll try anyway!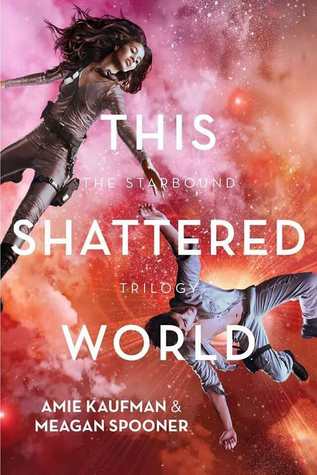 THIS SHATTERED WORLD by AMIE KAUFMAN & MEAGAN SPOONER
 Lee is captain of the forces sent to Avon to crush the terraformed planet's rebellious colonists, but she has her own reasons for hating the insurgents.
Rebellion is in Flynn's blood. Terraforming corporations make their fortune by recruiting colonists to make the inhospitable planets livable, with the promise of a better life for their children. But they never fulfilled their promise on Avon, and decades later, Flynn is leading the rebellion.
Desperate for any advantage in a bloody and unrelentingly war, Flynn does the only thing that makes sense when he and Lee cross paths: he returns to base with her as prisoner. But as his fellow rebels prepare to execute this tough-talking girl with nerves of steel, Flynn makes another choice that will change him forever. He and Lee escape the rebel base together, caught between two sides of a senseless war.
~ Yes – I know that this was on my June TBR pile but I just never got around to finishing it. I was completely and utterly swept away by Jennifer L. Armentrout's Lux series and then A Court of Mist and Fury that I neglected this one. That is why, this month it is right up the top of my TBR pile and I hope to have it finished and reviewed asap ~
ME BEFORE YOU by JOJO MOYES 
Lou Clark knows lots of things. She knows how many footsteps there are between the bus stop and home. She knows she likes working in The Buttered Bun tea shop and she knows she might not love her boyfriend Patrick.
What Lou doesn't know is she's about to lose her job or that knowing what's coming is what keeps her sane.
Will Traynor knows his motorcycle accident took away his desire to live. He knows everything feels very small and rather joyless now and he knows exactly how he's going to put a stop to that.
What Will doesn't know is that Lou is about to burst into his world in a riot of colour. And neither of them knows they're going to change the other for all time.
~ This is yet another book I started which have yet to finish (although I do hope to finish it in the next couple of days!). After seeing the film and buying the book on Monday I could hardly wait to start reading it. After finishing Dragonskin Slippers on Tuesday I dove straight in and let me tell you – I'm loving it!
ORIGIN by JENNIFER L. ARMENTROUT
Daemon will do anything to get Katy back.
After the successful but disastrous raid on Mount Weather, he's facing the impossible. Katy is gone. Taken. Everything becomes about finding her. Taking out anyone who stands in his way? Done. Burning down the whole world to save her? Gladly. Exposing his alien race to the world? With pleasure.
All Katy can do is survive.
Surrounded by enemies, the only way she can come out of this is to adapt. After all, there are sides of Daedalus that don't seem entirely crazy, but the group's goals are frightening and the truths they speak even more disturbing. Who are the real bad guys? Daedalus? Mankind? Or the Luxen?
~ This is also on top of my TBR pile for this month. Not only because I could hardly wait to read it after being cruelly left on a huge cliffhanger in Opal but this series is the Tea Leaves Book Club read for July. I hope to finish this series throughout July ~
---
So there you have it – that's all for this month's wrap up and TBR– though if time permits I hope to read a few more books than what I've listed! What books did you read during the month of June? What did you think of them? Let me know in the comments below and as always – happy  reading as we enter July!