Hey my fellow book hoarders/aholics/lovers/nerds and happy August. Wow. I made it. That's really all I can say – July was one hectic month for me, gold star to me for surviving. Surprisingly, amidst moving, starting a full time job and dealing with the usual mundane I managed to find the tie to read a grand total of 10 books this month. I know. Where oh where did I find the time? Trust me, even I don't know how I managed it. But I did and, I think 10 books is a personal best. Okay, so there was really 9 but one was a bind up of two books so yeah. Technicalities man. Technicalities. Now, as we venture forth into August and I solider on, staying not one, not two but a grand total of 6 books ahead of my goodreads reading challenge I thought I would share my reading month.
BOOKS READ:
ME BEFORE YOU by JOJO MOYES
You will most likely recognize this one from my July TBR and yes, I finished reading it. Now before I tell you my thoughts and feelings can we all just stop to appreciate just how gorgeous that cover is? Beautiful! After seeing the movie I was like I must have the movie tie in! It's stunning. Anyway, moving on – man was this a highly emotional book. I believe I cried even more reading it than I did at the cinemas (and trust me – I cried at lot!). I'm was such a complete mess of emotions and feels after turning that final page. This is such a beautiful, inspiring yet raw story. Such an incredible journey, this is one book that will leave you questioning everything you thought you knew. I loved every minuet of this story, the good, the bad and the ugly snot crying. Highly recommend it just please, please don't read it in public – not without a big box of industrial tissues anyway ;).
4.5 STARS | GOODREADS 
THIS SHATTERED WORLD by AMIE KAUFMAN & MEAGAN SPOONER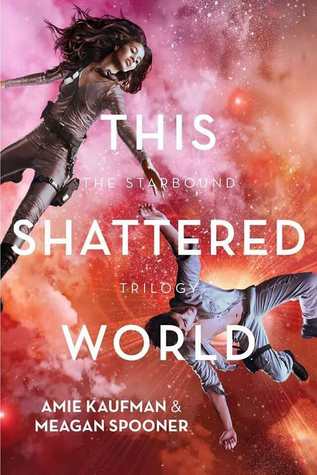 Yet another book that you will recognize from my TBR pile. I'm ashamed to say that this book has been on my TBR for not just July but June. Please hold the judgement! As much as I loved 'These Broken Stars' and adored the premise for 'This Shattered World' what with moving and all I just hadn't been in the right mind space to finish this one. You know how it goes, reading slumps – they suck. So this one got pushed onto the back burner. But, I decided to just roll up my sleeves and finish it and I ended up loving it. See, sometimes you need to just press pause on a book for a little while and come back to it. I was so glad I did.This was such an amazing journey, very different to that of 'These Broken Stars' yet still incredible none the less. The book, mush like the title suggests is about a world shattered in two, a war and a journey to piece the broken remains together again. This is a book that has you laughing, crying, gaping in shock all whilst you root for Jubilee and Flynn. We got a glimpse at what become of our very much beloved characters, Tarver and Lilac from 'These Broken Stars' as well as The Knave of Hearts and Sofia Quinn who we will follow in 'Their Fractured Light' and can I just say I can't wait. I just know that this incredible series will come to a close on such a grand scale. I can't wait for the final showdown with our favorite players against LRI. It was nice meeting you Avon but now we venture forth to Corinth!
5 STARS | GOODREADS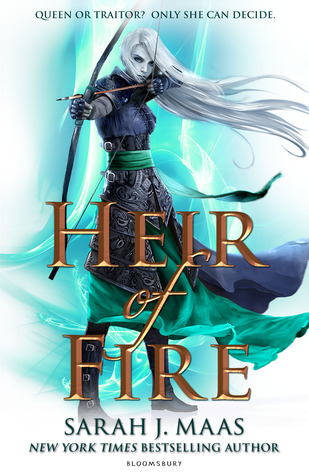 HEIR OF FIRE by SARAH J. MAAS
My god this book was so good! 'Heir of Fire' is almost as sweeping and epic as 'A Court of Mist and Fury' and by far my favorite of this series so far. I wept, I laughed and my heart was utterly broken broken as I watched Celaena recover from the still burning ashes of 'Crown of Midnight'. This is definitely a huge turning point for the series – we see our much beloved hero at her absolute lowest point as she desperately seeks to rebuild herself and I'm loved every moment of her journey! We finally arrived at the doorstep of the fey, discovering new elements to the already immerse and fully fleshed story world, gaining new characters to cheer for and new perspectives. I loved Mannon and her seriously deadly witch coven, her story was as epic and satisfying as Celaena's and Dorian's. But Chaol? Boy what the hell are you doing! I have officially abandoned ship. I'm now jumping aboard the Aedion express. Yum! This is a series that just keeps getting better and better with each passing page, I can't wait for 'Queen of Shadows'!
5 STARS | GOODREADS 
FOREVER SUMMER by ALYSON NOEL 
Even though it was the dead of winter in Melbourne, Australia and we had serve weather warnings and blistering cold fronts after watching the film 'Kings of Mykonos' I was seriously in the mood for some summer ya contemporary. I know – where is the logic in that? Perhaps I just wanted to escape the cold for a moment and pretend that I was in a world of sun kissed skin, blue skies and the endless possibilities of romance. I just keep telling myself; only a few months to go! Did I mention that Australia has the BEST summers??? No? Well I am now! 'Forever Summer' is actually a bind up of two novels, 'Languna Cove' and 'Cruel Summer'.  These books are short and easy to lose a few hours in and I love them. They are the perfect beach books, or in my case, the perfect books to read when you'd rather be anyway but in winter and need to at least try to pretend your not freezing and are actually falling asleep with your toes warm in the sand.
I couldn't tell you which one was my favorite because they are a both beautiful yet flawed in their own ways and completely different. In 'Cruel Summer' we journey with Colby through blog posts, letters, texts and diary entries to the tiny Greek island of Tinos for a summer of the unexpected and new. In 'Languna Cove', which is told more traditionally as apposed to 'Cruel Summer', we venture to Languna Beach, one of my favorite places to visit in the States, to live among the glamorous teens as they prepare for the upcoming surf meet. Both of these stories capture perfectly that summer feeling, with all of our characters torn away from their safe little worlds and cast off into the new. Great, easy reads!
4.5 STARS | GOODREADS 
PULLED UNDER by MICHELLE DALTON
'Pulled Under' is one of those books that makes you feel apart of something. This is a book where, much like when reading Morgan Matson, you fall in love with the characters and fell as though you belong in their tight, little group. This is a cute, summery read that will leave you smiling and misty eyed. A story about first love, the time of your life and stepping out of your comfort zone. This is a story that really highlights what summer means – the endless possibilities, the hope, the new beginnings and the potential of falling in love. It takes you back to those long nights when you were falling in love for the first time, as the pages just fly by as you watch (and adore) Izzy and Ben's love story while you relieve facets of your own. Besides the awesome (or should I say awfsome! 😉 ) characters, 'Pulled Under' showcases a passion for surfing which engulfs you in it's enticing, summery world. Our girl Izzy is a passionate, dedicated surfer, who's undying love for the art (Mickey and Mo would be proud) of surfing rubs off on the reader. I will admit that after reading this, as soon as summer comes around down under I'm heading up the Great Ocean Road in a van with my friends ready to learn the ropes and catch some waves! But, not only does Izzy love to surf, she and Michelle Dalton uses this very same passion to draw parallels between surfing and life. Through some well presented metaphors and symbols, we along Izzy learn that sometimes its best not to Over analyse the wave, or love and just enjoy the ride, letting the current pull you. Seriously though, I advise you to take notes because there is some serious life lessons and hacks embedded in this sweet story.
4.5 STARS | GOODREADS
UNEARTHLY by CYNTHIA HAND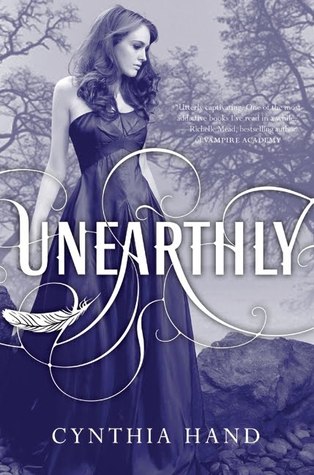 This was like my 5th re-read of this novel (actually, you know it was probably more) but I had just moved when I picked up this one and hadn't had internet (which was why I was so far behind on my reviews, sorry guys!) so I wanted a book that would sweep me away. One I would have to ponder over, one I wouldn't have to think so much about. 'Unearthly' was exactly the right book for me.  This is one of my favorites, a story about choosing between following your heart or the path laid before you. Clara, our protagonist has just a beautiful voice, one you can't help but love. She pulls you inter her exciting world, a world of angel bloods and divine purposes – heavenly messages from god. Romantic and heartbreaking, 'Unearthly' and the two books that follow will forever be some of my most treasured and highly recommended novels.
5 STARS | GOODREADS
HALLOWED by CYNTHIA HAND
Even though, like 'Unearthly' when I picked up 'Hallowed' this month I was re-reading it for the millionth time I could still remember what it felt like when I fist opened this book. I remember all the questions, uncertainties and confusion floating around my mind after the some what let down that was the ending of 'Unearthly'. Not that it was bad – please do not mistake me! Just that it was nothing like what I was expecting. But that is precisely what makes this series good. Sometimes in life we screw up. Majorly screw up and our purpose, our journey doesn't go the way it's meant to. 'Hallowed' opens with Clara as confused and miserable as us and yet we still cheer her on. We still hope she'll get it together, try again and succeed. Clara's purpose is so much bigger than the forest fire, the Man upstairs isn't done with her yet and somehow, this is even as heart breaking and earth shattering as the first. Such a great addition to such an amazing series.
5 STARS | GOODREADS 
BOUNDLESS by CYNTHIA HAND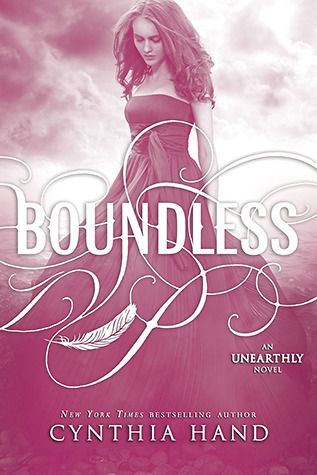 'Boundless', the final book in the 'Unearthly' trilogy and the eighth book I picked up this month takes a very different path when compared to the previous books. Clara, no longer a child has left Wyoming, headed for Stanford with a new purpose, a new mission and a whole lot of questions and confusion. After the shocking revelations of 'Hallowed' nothing can ever be the same again. 'Boundless' was a near perfect end to a near perfect series. This is a book where suddenly the stakes are higher than ever where Clara, Angela and Christian are players in a game much bigger than they ever imagined. One thing is clear – the forest fire was only the beginning and it's lead to a knockout, blockbuster finale that leaves you breathless and shocked. I did NOT see that coming! During the course of 'Boundless' we get to see how our beautiful (and favorite) angel blood has grown. Clara is a strong fighter, one to be admired and you can't help but cheer as you watch her take destiny and make her own. Such an amazing finish, one that brings a tear when you close that final page.
5 STARS | GOODREADS
SWEPT AWAY by MICHELLE DALTON
Now I started 'Swept Away' as soon as I'd closed 'Pulled Under' yet much like 'This Shattered World' it got pushed to the back burner. Maybe it was because to me, 'Pulled Under' was so near perfect but I just couldn't seem to feel that same magic when reading 'Swept Away'. Don't get me wrong – this was still a good read but something wasn't quiet there for me. Both the story and it's characters didn't pull me in like with 'Pulled Under'. There wasn't any clever metaphors and messages hidden and woven between the pages. Still, this was such a cute read – Mandy and Oliver were adorable. They were so awkward and clumsy around each other which makes it all the more real. News flash: that is how it works for most people in reality! 'Swept Away', though still memorable with fresh characters comes in close behind but I will forever love 'Pulled Under'. Those characters were unforgettable.
4 STARS | GOODREADS 
---
AUGUST TBR
As we venture forth into August and finally the end of winter for me (Sorry to all of you up north! Trust me – I fell your pain!)  I want to share with you some of the books I hope to read. Well… try to read anyway. You know how it goes, when you think you'll have plenty of time you hardly get any reading in and when your busy you some how power through your reading challenge (well for me anyway!).
HARRY POTTER AND THE CURSED CHILD by J.K. ROWLING 
Based on an original new story by J.K. Rowling, Jack Thorne and John Tiffany, a new play by Jack Thorne, Harry Potter and the Cursed Child is the eighth story in the Harry Potter series and the first official Harry Potter story to be presented on stage. The play will receive its world premiere in London's West End on July 30, 2016.
It was always difficult being Harry Potter and it isn't much easier now that he is an overworked employee of the Ministry of Magic, a husband and father of three school-age children.
While Harry grapples with a past that refuses to stay where it belongs, his youngest son Albus must struggle with the weight of a family legacy he never wanted. As past and present fuse ominously, both father and son learn the uncomfortable truth: sometimes, darkness comes from unexpected places.
~ I'd be willing to bet that most die hard Potter fans (or just any fans in general 😉 ) will be adding this baby to their August TBR. I started this the moment I got my hands on it on July 31st after waking up at the crack of dawn and waiting in line to insure I got a copy and omg it's good! I'm on the edge of my seat trying to contain my desire to devour it in one sitting! (Must appreciate and take the time to enjoy the final of Harry and friends adventures!). So I will be no doubt finishing this one early on in August.
---
So there you have it – that's all for this month's wrap up and TBR– though I most definitely read way more than what I've listed (to be honest I'm to tired to keep listing books – I could go on and on but then again some times I like to just read what ever I fancy on a particular day). What books did you read during the month of July? What did you think of them? Let me know in the comments below and as always – happy  reading!