2016.
Yeah, not so good for me. Honestly this was one of the most challenging and hardest years of my life. Yes, everyone has problems and obstacles to overcome and yes each year is filled with both good and bad but 2016 was a beast. Both on a personal and global scale I feel as though we've all taken a few bad hits this year.
So, in honer of the last day of 2016 and to ring in the new year 2017 (I am so making 2017 my bitch. I'm telling you this will be my year – positive thinking is powerful 😉 ) I am going to share my year in books. This is a great time to reflect on the amazing characters I've met, the incredible journeys taken and the best and worst of 2016. So Let's get started!
*Also side note: part of my in activeness in blog posts and updates this past month has to do with said year. If you follow me on goodreads you will have noticed that I haven't been reading much lately and this is due to the revival of my horrid slump. Yes Reading Slump 2.0. On top of some personal issues I've started a new job which had me working and putting in a lot of hours over November and December but the good news is I'm taking a break to focus on my writing and some new projects. 🙂 *
Best Books of 2016.
I read a total of 55 books this year which is okay considering I completed my goodreads reading challenge of 50 books and missed out on a few months due to the reading slump but next year I know I can read much more. According to goodreads, I've read 22,163 pages with my shortest being 'Yellow Brick War' by Danielle Page at 270 pages and my longest being 'Queen of Shadows' by Sarah J. Maas at 645 pages. I think we can all say that some books were a lot better than others. Even epic. So I'm going to share my personal favorites read this year. These books are in no particular order – I genuinely loved each and every one of them!
Passenger by Alexandra Bracken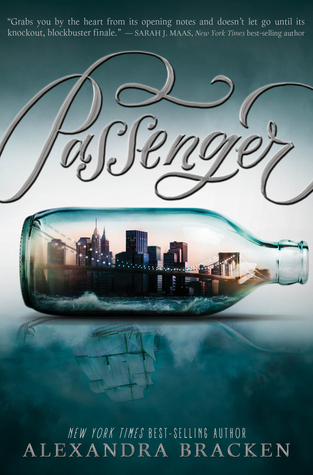 I started off the year with a bang, reading one of my most anticipated 2016 reads and boy was I not disappointed. 'Passenger' was everything I hoped it would be and more This novel met everyone of my grand expectations – it was an epic, filled with adventure, drama, romance, history, inner conflict and non-stop thrills. This was a must read for 2016 with something for everyone and perhaps one of my favorite reads ever. If i were to rate each and every book read this year 'Passenger' would without a doubt find its way to the top five of the list. Highly recommend and I can't wait for Wayfarer (which is set to be released on my birthday!).
A Court of Mist and Fury by Sarah J. Maas 
'A Court of Mist and Fury' is one of those books that would be right up their with 'Passenger' being one of my new favorite reads. Sarah's world is like required reading. She always managers to cut out your heart and leave you bleeding in the best possible way. A Court of Mist and Fury is both sorrowful yet joyful, it's a story about life, love and rebirth. This is a soul shattering journey that will have you weeping, laughing and just feeling. If you haven't yet ventured forth of this incredible journey I have one thing to tell you; STOP WHAT YOU ARE DOING A PICK IT UP NOW.
A Torch Against the Night by Sabaa Tahir 
I have still yet to write a full review to express just how much I loved this book. Before reading 'TORCH' I would have placed 'An Ember in the Ashes' somewhere upon this list but post 'TORCH'? Well I'd have to say that this incredibility wild ride of a sequel overtook it. Now I won't say much in case you have still yet to read 'EMBER' but this is a fantasy series worth reading. Everything from its cast of characters to its world building and setting is just darn amazing. Sabaa is cunningly brutal to her characters (still can't get over Elias 😦 ). No one is safe in her equally brutal world so dont be expecting to be putting this one down once you open that first page.
These Broken Stars by Amie Kaufman and Meagan Spooner 
Lilac and Tarver's story is original and gripping, very unlike any other survival story I've read before and now one of my favorite books. I fell completely in love with both of our character's and was so fully invested in their journey – I practically devoured this book, staying up all hours needed to decipher these "whispers" that haunt them. 'These Broken Stars' is such a great read spanning across so many more genres than just science fiction. It's adventure, survival, romance, paranormal and fantasy – I highly recommend this book, don't make the same mistake I made and push this gem to the back burner.
Heir of Fire by Sarah J. Maas & the Throne of Glass Series 
Sarah J. Maas you have now risen to the ranks of J.K. Rowling, Stephanie Meyer and Cassandra Clare as one of my all time favorite authors. The reigning queen of all things fantasy, Sarah's books are required reading for  book nerds everywhere. This year I finally rolled up my sleeves and read her Throne of Glass series and let me tell you – I don't just love this series. I LOVE them. My favorite of the series so far (excluding 'Empire of Storms'- still have yet to read.) was by far 'Heir of Fire'. 'Heir of Fire' was a major turning point in this series. A seriously emotional read this is the point in Celaena's journey where she finally must face who she's become and accept her past. We see our hero at her absolute lowest as she desperately seeks to rebuild herself and the journey is as inspiring as it it breathtaking.
---
So those were just my Top 5 of the books read during the year. You can probably imagine that there were a lot more than that. Keep checking back for Part 2 where I discuss some of my controversial worst books of 2016.
Thanks for being patient with me
xxxooo have a happy new year!
Love, Lex